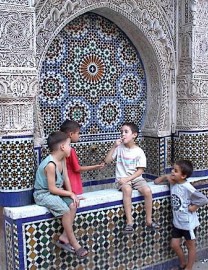 May 2011: Forking Fantastic! in Morocco
**Click to download brochure!**
We are thrilled to be working with British bespoke travel company Brown & Hudson to lead an eight-day, seven-night culinary tour to Morocco in May 2011. Imagine our adventure looking just like this photo from Zora's trip to Fez in 2000. We might all be a little older--but we'll be no less cute, and we'll enjoy our snacks just as much!
It's no ordinary culinary tour: to go along with the principles of Forking Fantastic!, we're focusing on local hospitality and how to improvise with ingredients. One of the highlights will be cooking dinner at a local's home in Essaouira, for instance.
Another night, half the group will cook dinner for the other half, using ingredients we've picked up from the Marrakech market that morning, just based on what looks tasty and fresh or even just plain weird. (And there's a lot of weird and wonderful in Morocco!) And we'll bunk down at night in some beautiful, tile-bedecked courtyard hotels.
But don't worry: it's not all decadence. We'll be doing a little hiking in the Ourika Valley (to work up an appetite), and there's some optional bicycling, and some random wandering on our own or in smaller crews, so we don't go tour-group stir-crazy.
The dates are May 28 to June 4. If enough people are clamoring to travel with us, we'll add a second week, immediately after.
Download the full brochure here (right-click to save doc), and start drooling. We would love to have you join us! Drop us an email with any questions.